Mesa Business Signs
View Business Sign Gallery
Feature your brand and improve your bottom line with supportive, durable business signs, and graphics!
As a dedicated Phoenix business sign company, Phoenix Signage is your local partner for delivering impressive commercial signage that attracts interest in your brand and business. Regardless of your business promotional objectives and goals or company size, let us design and layout, build, and provide installation for the enticing signage your business needs.
For everything from retractable convention banners to impressive pole, tenant, and pylon signs, ADA signage to storefront channel letters, our specialists will create single signage elements for business advertising or an entire cohesive sign and graphics collection that identifies your brand and gets your business seen and remembered. Our specialized team of knowledgeable signage professionals realizes your specific business needs, and we are completely ready to efficiently craft your commercial signage, supplying effective sign and graphic elements that meet your requirements, finances, and schedule.
Call Phoenix Signage at (602) 806-8447 for your Free Consultation!
Cohesive Commercial Signs
Targeted corporate signage permits you to attract attention in your competitive local arena. Along with highlighting your logo and business name, cohesive commercial signage provides details that your customers and visitors need, such as current specials and sales, ADA and accessibility information, and business hours.
Set your organization apart from other local Phoenix businesses, your competitors, and the many distractions in your potential shopper's busy lives with high-visibility, interesting custom business signage products! Phoenix Signage is your dedicated local fabricator of high-impact business signs and graphics that support your company goals by providing an interesting and lively environment.




Phoenix Signage is inspired by your dreams to develop functional custom signs and graphics for brand and business promotion. Our creative business signage designers are skilled at understanding your requested concepts and thoughts and utilizing them to deliver a physical signage design concept. Regardless of your specific sign and graphic needs, we develop every sign type, including custom building signs to commercial fleet graphics, lobby logo signs, and high-converting promotional signage for indoor or outdoor use. Whatever your Phoenix business sign and graphic thoughts, pick Phoenix Signage to make them a reality!
Complete Business Signage
Custom commercial sign fabrication allows you to reduce competitor brand confusion while positioning your business as the experts for your specific industry. Business signage also helps impact potential buyer's professional view of your services, products, and business as a full package. By using branded custom signage that is designed to match your other branding and marketing initiatives, you boost both your brand awareness and the level of expertise that your brand delivers. Dedicated to providing professional support for your commercial signage or requested personalization, Phoenix Signage is a trusted local partner for attractive one-of-a-kind business signs and graphics.
Whether you're an upcoming new business or a longstanding local favorite, Phoenix Signage will provide personalized solutions that support your unique branded signage specifications. Phoenix Signage offers you infinite opportunities for using custom signs and graphics to support your brand awareness and business growth, and our knowledgeable sign and graphics team will advise you on positioning, designs, materials, and sign and graphic products that will supply the best possible influence on customers, staff, and guests.
Our Phoenix business sign services include:
Our experts have the insight, practical experience, and skills to develop the right signs, graphics, and lettering for your unique business needs. Branded signs and graphics are the ideal way to really showcase who you are as a brand and business.
Free Business Signs Consultation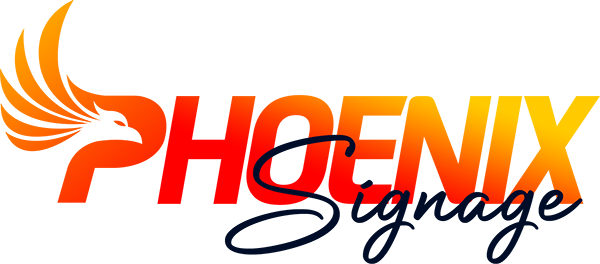 As a complete, full-service Phoenix, AZ signage vendor, our professionals are dedicated to delivering eye-catching, brand-building signage that actually works.
At Phoenix Signage, we provide the support and technical skills needed to develop the commercial signage your brand needs. Regardless of whether you already know what you want, or want support with sign planning and design, our professionals will fully support you. Phoenix Signage is dedicated to becoming your local provider of high-quality, eye-catching custom business signs.

Call Phoenix Signage at (602) 806-8447 for your Free Consultation with a Business Signage Specialist!