Phoenix Digital Signs
View Sign Gallery
Do you want your audience to get the information they need to know about your business in a more effective manner? If so, you may want to consider requesting custom and high-impact Phoenix digital signs from Phoenix Signage.
Phoenix Signage is a Phoenix, AZ sign company specializing in providing effective and affordable digital signs for any business that needs them. Our digital signs are easy to use and customized to suit the business or brand using them.
We can provide these signs to you on time and keep them within budget. You can also count on us to maintain and repair these signs if needed so that your business can benefit from them for a long time.
Call Phoenix Signage at (602) 806-8447 for your Free Consultation with a Phoenix Digital Sign expert!
Dynamic, Attractive Digital Signs
Digital signs are the best business signs to choose from if you want a dynamic and flexible way of promoting your business and your brand to the public.
Digital signs can showcase your products and services more effectively than traditional signs as people can see what you are offering and understand how it works.
These signs can also help with improving customer retention and experience as they can become interactive with the help of images and videos.
Since these digital signs can be customized to suit your business goals, it can be hard to pick which one is the best. Fortunately, our team at Phoenix Signage is ready to help you out by giving you all the information you need about these digital signs, and once you pick one, we can make them for you.
Outdoor Digital Displays
We also make outdoor Phoenix digital signs which can help potential and current customers know about your business offerings even if they haven't seen your storefront. These digital displays can be used in any weather and any time of day, allowing you to attract your target audience with the products and services you can provide to them.
For our outdoor digital displays, you have a lot of options to choose from. We can customize LED, LCD, and projection displays to work for your business. If you don't know which one is suited for your business, our signage experts can help you understand each option and help you choose which one will work best for you.
We will also discuss other aspects of your business that can help us determine where these digital displays should be installed and how they could be customized to help you stand out from your competition.
Indoor Digital Displays
Give your customers a cohesive brand campaign with the help of indoor digital displays.
These indoor digital displays provide a bonus for your customers as they can peruse your information in a fun and interactive format. Digital displays can feature key information regarding your business to multimedia that would get people to look at your content. These displays work for any business, especially for retail stores, restaurants, hotels, and corporate facilities.
If you want to explore how indoor digital displays work, our sign experts can sit down with you to explain the process. We can also show you how they will improve your customer retention and achieve the highest customer satisfaction once placed in your business.
Whichever digital sign you request from us, we use only the highest grade and environmentally-friendly materials available in the market. We want you to enjoy the benefits of having these signs without having to spend a lot of money to get them. We even offer installation and maintenance services to help you benefit from these signs even further. Simply contact our team today, and we'll show you how we do things.
Full-Service Sign Company
At Phoenix Signage, we make sure that the Phoenix digital signs we make are tailored perfectly to the clients who request them. To make this happen, we handle every process of the sign-making process, from consolidating the ideas you have for the signs to producing and installing the signs to where you want them to be.
We start the sign production process with our free consultation, where our sign experts will discuss what signs you are hoping for. Once we have all the information we need to design your signs, we will send you a design sample so you know what your signs could look like. We can edit the design if you see something that needs to be adjusted and keep customizing it until it matches your requirements perfectly.
When the design is approved, we will manufacture the signs in-house using the materials you selected from our catalog and the high-tech equipment we have to make your signs perfectly. Our quality control team will be on standby to check the quality of the signs as they are being printed to make sure that they have all the elements you want. The signs will then be handed to our talented and experienced installation team, who will place your signs in key points of your business to get the exposure they need.
We also provide other sign-related services at Phoenix Signage. From sign removal, sign design upgrades to maintenance, we can tackle it for you.
Free Digital Sign Consultation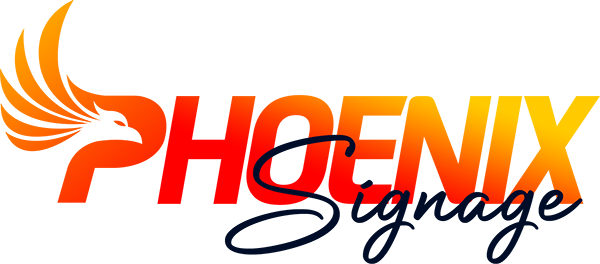 When it comes to business signage, you won't go wrong with contacting us at Phoenix Signage. We have all the resources, equipment, and talented team needed to create the perfect signs that will help your business flourish. We will be with you in every step of the sign production process and guarantee that it matches your requirements perfectly. You can rely on us to deliver your signs on time and transform the way you advertise your business. Call us now to find out more about our services, and we will be ready to show you how we make our high-quality signs special.
Call Phoenix Signage at (602) 806-8447 for your Free Consultation with a Phoenix Digital Sign expert!