Phoenix LED Signs
View Sign Gallery
Do you want a colorful yet interesting way to draw people's attention to your business without having to pay a lot of money on maintenance? If yes, you might want to look into LED signs.
LED signs use LED bulbs that are environment-friendly, requiring less energy to illuminate. They can even mimic traditional lights, such as neon and retro lighting. Any industry can use these signs for their businesses, especially those businesses that operate until the late hours.
At Axe Signs & Wayfinding, you can get custom Phoenix LED signs that are well suited to your brand. You can get them tailored to fit your business's location or show information in an interactive way. Call us today, and we'll show you the options available for your LED sign.
Call Axe Signs & Wayfinding at (602) 806-8447 for your Free Consultation with a Phoenix LED Sign expert!
Indoor LED Signs
Phoenix LED signs are very flexible, and you can use them anywhere in your business.
Most businesses use LED signs indoors to feature key areas of the business, such as the order or pickup stations and exits.
We can design these signs to use your brand's font or the fonts you want us to use for your signs.

Programmable LED Message Centers
Do you want a LED sign that you can regularly customize without changing the sign completely? Axe Signs & Wayfinding can design a programmable LED message center sign that can be used as a standalone sign or a part of a larger business sign.
Our LED message centers are ideal because you can customize them easily, especially if you have new product offers or events. Some of our LED message centers can showcase full-color graphics, like videos, that you can't normally use in traditional business signs.
Full-Service Lighted Sign Company
When we receive a request for custom Phoenix LED signs, clients will not have to ask for a third party to complete certain parts of the sign. We are a full-service sign company that can handle every aspect of the sign process, from designing the sign to installing and repairing it. We guarantee our clients that our signs are high-quality and achieve the business goals they set with these signs.
We have all the equipment, skill, and experience you could ever want from a trusted sign company. We can also make other business signage, so if you want to have a cohesive sign campaign, you can count on us.
Free LED Sign Consultation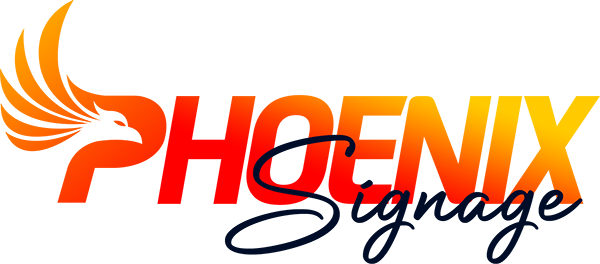 We are the best Phoenix, AZ sign company to contact if you need the perfect LED signs for your business. You won't be disappointed with our work because it will match your requirements perfectly and get all the impressions you need to bring people into your business. Call us today, and we'll show you how these LED signs can be modified to match your business goals and brand.
Call Axe Signs & Wayfinding at (602) 806-8447 for your Free Consultation with a Phoenix LED Sign expert!