Phoenix Channel Letters
View Channel Letter Gallery
If you want simple yet highly customizable signage, you can definitely go for Phoenix channel letters. You can get them done according to your design or brand theme, no matter what industry you are in.
Phoenix Signage is a Phoenix, AZ sign company specializing in unique and high-impact channel letters. We understand how important it is to be visible in any industry, but we also know how expensive business signs could be. Our team is ready to provide you with expert advice and work with your requirements to deliver the best channel letter signs your business needs.
We are also a full-service sign company, allowing us to deliver your channel letters quickly and maintain them for you. We are here to guide and show you how these signs can help you build your brand further.
Call Phoenix Signage at (602) 806-8447 for your Free Consultation with a Phoenix Channel Letter expert!
Storefront Channel Letters
The most popular type of storefront signs requested is storefront channel letters. These channel letters are 3-dimensional and can feature letters, symbols, images, and numbers. These pieces are cut from individual pieces and are secured together in a backing frame or flushed directly on the building. To make sure they last for a long time, these channel letters are covered by acrylic and come in different colors and transparency.
Whether you want your business name displayed or simply your logo, we can make it for you. We can even customize the shapes to fit your image or font, personalizing your signs even further to match your brand.
Channel letter signs work for any business, especially offices, grocery stores, shopping centers, churches, schools, government facilities, and retail stores.
Dimensional Letters
For a more seamless channel letter sign for your business, you may want to consider dimensional letter signs. Unlike channel letters made from individual pieces that come with an empty channel inside for lighting, dimensional letters are cut from a single sheet of material – either acrylic or metal – and can be made in various sizes and styles. You can also customize the materials' thickness so that they get a different dimension depending on where the sign is being viewed from.
Phoenix Signage manufactures durable and high-quality dimensional letters that will be tailored to your brand. These dimensional letters are perfect for restaurants, offices, malls, and retail stores, as well as signs that can be used for indoor areas and lobbies.
Backlit & Illuminated Channel Signs
We can also do Phoenix channel letters that are backlit or illuminated, allowing them to stand out even at night or in poor weather. We use LED lighting to make this possible, and it is very cheap to run and maintain. Once you request this service, we will handle everything for you, from applying for the right documentation to get these signs up, designing the sign, installing the electrical components to maintenance.
These backlit and illuminated signs work perfectly for businesses that have night hours, such as nightclubs, theaters, bars, coffee shops, gas stations, and clubs, as well as for businesses that wish to attract new customers in a unique way.
Free Channel Letter Sign Consultation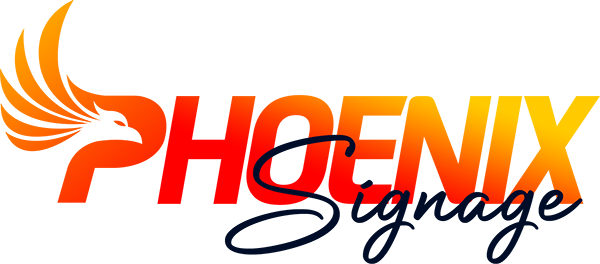 At Phoenix Signage, you can rest assured that your customized Phoenix channel letters will be delivered efficiently and work as you envisioned them to. We can also make your business signs cohesive—we are your best partner for your signage needs.
Contact Phoenix Signage today to know more about the services we offer, and you won't be disappointed once we start to work on your signs.
Call Phoenix Signage at (602) 806-8447 for your Free Consultation with a Phoenix Channel Letter expert!