Peoria Sign Company
View Sign Gallery
Do you want to produce maximum visibility for your brand and business? Using high-quality business signs, and graphics by Phoenix sign company, Phoenix Signage, you can accomplish your brand goals!
As your expert sign professionals, our team handles every last detail of the signs and graphics project here locally in our custom signage shop. We focus on delivering remarkable service, sustainable signs and graphics, and long-lasting supplies, making us the easy choice for all of your promotional sign and graphic needs.
Your commercial custom signage explains to your future customers quite a bit about your brand, your products, and the reasons why they must pick you. With enticing outdoor signage, complementary indoor signs, and beneficial promotional signs, our professionals make sure that your unique offerings won't be ignored. Our professional Phoenix, AZ sign company produces prudent solutions for all of your brand awareness needs.
Call Phoenix Signage today at (602) 806-8447 for your Free Consultation with a Signs & Graphics expert!
Signs That Work For You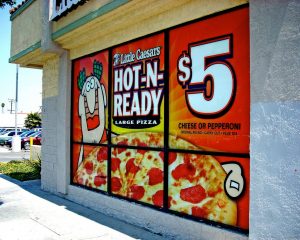 Are you wanting to improve your average sale, accelerate your new customer acquisition, or improve your workforce productivity? Phoenix Signage custom fabricates the high-impact custom signage you must have to do exactly that. From the primary free consultation to professional sign installation, we make certain that we are manufacturing the most suitable commercial sign and graphic solutions for your business location, needs, and brand. Our experts endeavor to discover your unique brand and business presence objectives, so we can provide useful sign and graphic suggestions that will get the job done for your brand. The best signage elements get your brand and business seen and remembered, distinguish your product/service blend from alternatives, and make it simple for customers and visitors to maneuver through your facilities.
From impactful vinyl signs to branded flag signs, address signs, yard signs, office signs, and any other sign, or graphic you need, we ensure that you have the signs and graphics you need to drive branding and revenue.
Increase your walk-in traffic with high-visibility, high-impact outdoor signage elements constructed Phoenix Signage! From magnificent pole signs, graphics, and images to professional post and panel signs, window displays, a-frames, and a lot more, we manufacture every sign you need for far better brand awareness.
Expanding your customer base starts with a strong business storefront. This is most often the primary way a future shopper discovers your business, so the data it includes must be impactful, informational, and alluring. Virtually all organizations and businesses need a main building sign, such as cabinet signs, channel letters, or logo signs, to establish their unique brand. Promotional graphics tell shoppers why they should shop with you while lettering for your doors gives essential information like your business hours of operation. Banners, A-frame signs, or Flag signs invite new and returning customers with exclusive promotions.
You need the most appropriate eye-catching exterior sign and graphic elements to generate considerably more shoppers, and Phoenix Signage will help make sure your facade shows success.
Provide support to your customers, maximize your average customer value, and escalate workforce output using custom indoor signs provided by Phoenix Signage. Whatever your marketing needs and goals are, our specialists produce the interior signage products you need.
Your distinct indoor signs and graphics are influenced by your unique business goals, legal sign requirements, and facilities. From seasonal pop signage to supportive wayfinding and ADA signs, and motivational murals, we suggest the right indoor sign products for you. Taking on everything from initial conceptualization to installation, we ensure your custom signage elements promote your marketing and branding, high-quality, and targeted at promoting your company goals.
Phoenix Signage can offer you on location assessments to consider which sign and graphic components will exactly match your space and brand. Our specialists can't wait to help construct a productive and effective workspace!
Eye-catching, effective vinyl graphics, signs, and banners are a useful supplement for any type of large or small business. Whether trying to find a way to gain visibility to your storefront, supporting prospective buyers with finding their way, or are looking to build interest in a special event or promotion, our local team of dedicated vinyl signs and graphics specialists have the appropriate customized vinyl sign solutions for your goals.
We are your all-inclusive large format graphics and banners vendor, providing custom sign and banner printing products and services. We easily deliver any of the high-visibility and high-impact promotional graphics your brand desires.
If it's full-color window graphics, banners, lettering, vinyl clings, floor graphics, decals, or any other signage element you are considering, our on-site vinyl signage team deliver your custom signage with experience, speed, and with an eye to each and every detail.
Phoenix Signage appreciates that in order to get a sign that truly reflects your distinct business and goals, specialty signs, and graphics is the only real solution for you. Your custom commercial signage should be cohesive and coordinating with your needs, goals, timeframe, and brand.
We consider these parameters when advising you on the best custom signs to meet your needs. Whether you need a customized exterior sign or would like a complete signage set, Phoenix Signage will expertly handle your signage project from the initial idea through to the final installation.
With custom specialty signs, you get something effective and brand cohesive for your company and brand. From adding lighted sign and graphic elements to carving, etching, embossing, engraving, or sandblasting many materials, we provide signage that is impactful.
As the best local Phoenix sign company, our team of experts creates the custom signs you need to improve your business exposure and brand awareness. From only a single custom sign to total branded commercial signage packages, Phoenix Signage makes effective signage.
Complete Commercial Signage Company
Very few sign-making companies assist you throughout every level of your custom signage project. As your local custom full-service, graphic, and sign shop, Phoenix Signage offers a total variety of custom signage types and services, so you will never need to go from one provider to another for design and layout, earth-friendly manufacturing, and attractive installation. Every single thing you require is easily accessible, with our experienced team also providing maintenance.

Our primary goal is to make certain we form a full understanding of your commercial signs and graphics needs and goals. Early insight helps our team to develop signage systems that effectively meet your wishes, incorporating the most suitable signage types, element placement, and sign materials. Our local professionals work directly with our creative sign design team to assure your ideas and vision are incorporated in your final layout and design. You retain final say regarding your sign and graphic design; however, we make a conscious effort to get as close to your signage ideas as possible before delivering the draft design to you.
Phoenix Signage is dedicated to producing earth-friendly signs and graphics with the aid of sustainable manufacturing practices and processes. Our goal is to invest in earth-conscious production materials, practices, and machines in order to decrease waste and conserve energy whenever possible. Our professionals make sure that you have all items necessary for professional installation performed by our experienced sign installation experts.
In the event that your business needs effective, functional custom signage, your search is over. We look forward to being your go-to source for all your current and future custom signage requirements. A reliable sign manufacturing company, we develop a vast assortment of signs and graphics from business identification signs to vehicle, and anything in between. Phoenix Signage is always here for all of your commercial custom signage needs.
Our Commitment To You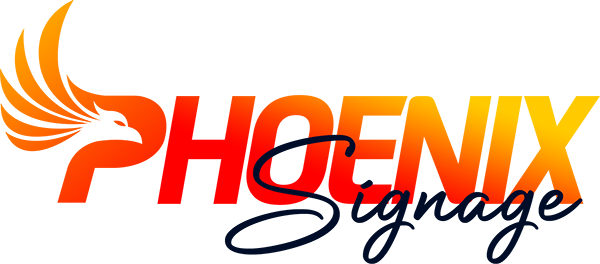 We design, fabricate, and install the professional signage elements you need to attract and retain more customers.
Our experienced professionals are wholly committed to your satisfaction throughout all stages of sign ownership, providing expert design, professional manufacturing, detail-focused installation, quality maintenance, and targeted repair for all of your signage products. When your business expects high-quality signs and graphics, produced to specifications, at a wallet-friendly price, and finished without delay, count on Phoenix Signage. We're the dedicated Phoenix sign company you can depend on for all your sign and graphic desires.
Contact Phoenix Signage today at (602) 806-8447 for your Free Consultation with a Signs & Graphics expert!